Fiber Node Transponder, SA120IE
Short Description:
This product specification covers DOCSIS® and EuroDOCSIS® 3.0 versions of the Embedded Cable Modem Module series of products. Throughput this document, it will be referred as SA120IE.The SA120IE is temperature hardened for integration in other products that are required to operate in the outdoor or extreme temperature environment. Based on Full Band Capture (FBC) function, SA120IE is not only a Cable Modem, but also it can be used as a Spectrum Analyzer (SSA-Splendidtel Spectrum Analyzer). Heatsink is mandatory and application specific. Three PCB holes are provided around the CPU, so that a heatsinking bracket or similar device can be affixed to the PCB, to transfer the generated heat away from the CPU and towards the housing and environment.
Product Detail
Product Tags
▶DOCSIS/EURODOCSIS 1.1/2.0/3.0, Channel bonding: 8*4
▶Two MCX (Female) connectors for Downstream and Upstream
▶Provide two-Port Giga Ethernet MDI Signals to target board (Digital Board) through J1 & J2
▶Get DC Power Supply from Target Board by use of J2
▶Standalone External Watchdog
▶Temperature sensor on board
▶Small size (dimensions): 113mm x 56mm
▶Accurate RF power level 2dB at all temperature range
▶FBC for Spectrum Analyzer, integrated Splendidtel Spectrum Analyzer (SSA)
▶Support Low Power Mode and Full Function Mode Switchable
▶DOCSIS®/Euro-DOCSIS® HFC environment auto detection
▶UART/I2C/SPI/GPIO driver customization for various devices monitoring. Such as Fiber node, Power Supply, RF Amplifier
▶Docsis MIBs / Any other customized MIB support
▶Open system API and data structure for 3rd party application's access
▶Low power signal detection. Signal lower than -40dBmV will be represented with built-in Spectrum Analyzer
▶CM MIB Files are open for customers
▶CM management Web GUI is available on WAN or LAN
▶MSO can reboot the CM remotely via Telnet or SNMP
▶Switchable between Bridge and Router mode
▶Supports DOCSIS device upgrade MIB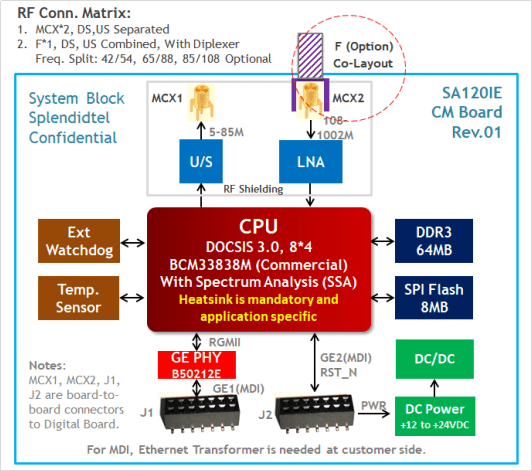 An external watchdog is used to make sure the system's operation reliably. Watchdog is kicked by the
Firmware every once in a while, so that the CM does not reset. If there's something wrong with the CM
Firmware, then after a certain period (watchdog time), the CM will reset automatically.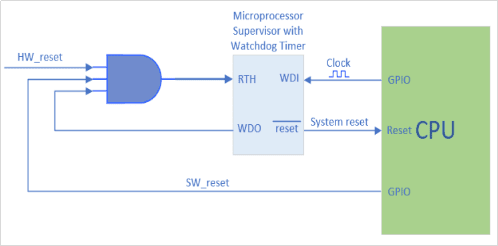 Protocol Support
◆ DOCSIS/EuroDOCSIS 1.1/2.0/3.0◆ SNMP v1/v2/v3◆ TR069
Connectivity
RF: MCX1, MCX2
Two MCX Female, 75 OHM, Straight Angle, DIP
Ethernet Signal/PWR: J1, J2
1.27mm 2x17 PCB Stack, Straight Angle, SMD2xGiga Ethernet Ports
RF Downstream
Frequency (edge-to-edge)
◆ 88~1002 MHz (DOCSIS)◆ 108~1002 MHz (EuroDOCSIS)
Channel Bandwidth
◆ 6 MHz (DOCSIS)◆ 8 MHz (EuroDOCSIS)◆ 6/8 MHz (Auto Detection, Hybrid Mode)
Modulation
64QAM, 256QAM
Data Rate
Up to 400 Mbps by 8 Channel bonding
Signal Level
Docsis: -15 to +15 dBmVEuro Docsis: -17 to +13 dBmV (64QAM); -13 to +17 dBmV (256QAM)
RF Upstream
 
Frequency Range
◆ 5~42 MHz (DOCSIS)◆ 5~65 MHz (EuroDOCSIS)◆ 5~85 MHz (Optional)
Modulation
TDMA: QPSK,8QAM,16QAM,32QAM,64QAMS-CDMA: QPSK,8QAM,16QAM,32QAM,64QAM,128QAM
Data Rate
Up to 108 Mbps by 4 Channel Bonding
RF Output Level
TDMA (32/64 QAM): +17 ~ +57 dBmVTDMA (8/16 QAM):  +17 ~ +58 dBmVTDMA (QPSK):      +17 ~ +61 dBmVS-CDMA:           +17 ~ +56 dBmV
Networking
Network protocol
IP/TCP/UDP/ARP/ICMP/DHCP/TFTP/SNMP/HTTP/TR069/VPN (L2 and L3)
Routing
DNS / DHCP server / RIP I and II
Internet Sharing
NAT / NAPT / DHCP server / DNS
SNMP version
SNMP v1/v2/v3
DHCP server
Built-in DHCP server to distribute IP address to CPE by CM's Ethernet port
DCHP client
CM automatically gets IP and DNS server address from MSO DHCP server
Mechanical
Dimensions
56mm (W) x 113mm (L)
Environmental
Power Input
Support wide power input: +12V to +24V DC
Power Consumption
12W (Max.)7W (TPY.)
Operating Temperature
Commercial: 0 ~ +70 oC  Industrial: -40 ~ +85 oC
Operating Humidity
10~90% (Non Condensing)
Storage Temperature
-40 ~ +85 oC
Board-to-Board Connectors between Digital and CM Board
There're two boards: Digital board and CM Board, which use four pairs of board-to-board connectors to transmit RF signals, Digital signals and power.
Two pairs of MCX connectors used for DOCSIS Downstream and Upstream RF Signals. Two pairs of Pin Header/PCB Socket used for Digital Signals and Power. CM board is placed under the Digital Board. CM's CPU is contacted to the housing through thermal pad to transfer the heat away from CPU and towards the housing and environment.
The mated height between two boards is 11.4+/-0.1mm.
Here's the illustration of matched board-to-board connection: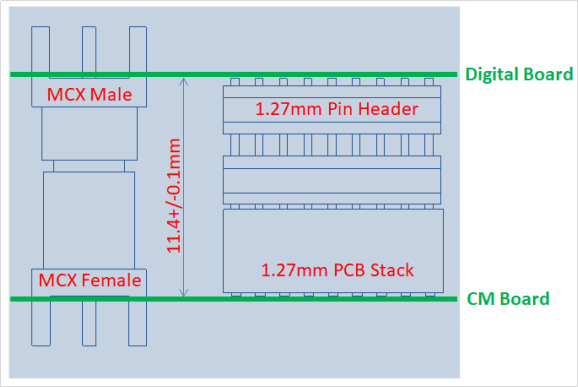 Note:
Cause of Board-to-Board design for two PCBA Boards, in order to make sure stable and reliable connection, therefore, when
To design the Housing, it should be taken the assembly engineering and screws for fix into consideration.
MCX1, MCX2: 75 OHM, Female, Straight Angle, DIP
MCX1: DS
MCX2: US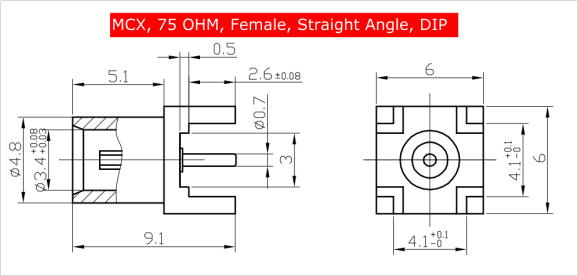 Matched MCX Male: 75 OHM, Male, Straight Angle, DIP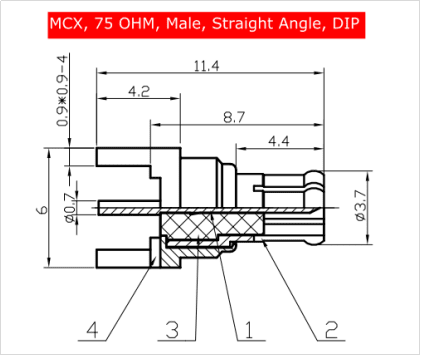 J1, J2: 2.0mm 2x7 PCB Socket, Straight Angle, SMD
J1: Pin Definition (Preliminary)
J1 Pin

CM Board
Female, PCB Socket

Digital Board
Male, Pin Header

Comments

1

GND

2

GND

3

TR1+

Giga Ethernet Signals from CM board.
There's NO Ethernet transformer on the CM board, here're Only the Ethernet MDI Signals to Digital Board. RJ45 and Ethernet transformer are placed at Digital Board.

4

TR1-

5

TR2+

6

TR2-

7

TR3+

8

TR3-

9

TR4+

10

TR4-

11

GND

12

GND

13

GND

Digital board provides Power to CM board, the power level range is; +12 to +24V DC

14

GND
J2: Pin Definition (Preliminary)

J2 Pin

CM Board
Female, PCB Socket

Digital Board
Male, Pin Header

Comments

1

GND

2

Reset

Digital board can send a reset signal to CM board, then to reset the CM. 0 ~ 3.3VDC

3

GPIO_01

0 ~ 3.3VDC

4

GPIO_02

0 ~ 3.3VDC

5

UART Enable

0 ~ 3.3VDC

6

UART Transmit

0 ~ 3.3VDC

7

UART Receive

0 ~ 3.3VDC

8

GND

9

GND

0 ~ 3.3VDC

10

SPI MOSI

0 ~ 3.3VDC

11

SPI CLOCK

0 ~ 3.3VDC

12

SPI MISO

0 ~ 3.3VDC

13

SPI Chip Select 1

0 ~ 3.3VDC

14

GND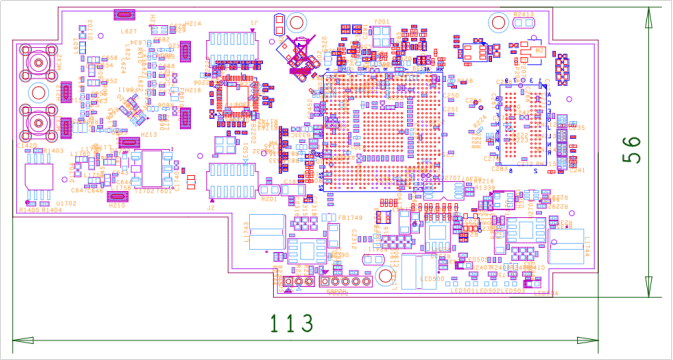 ---
Previous:
5G Indoor CPE, 2xGE, RS485, MK501
---